Andy Gunn is a filmmaker, writer, editor, photographer, creative facilitator and lifelong cinephile.
​
You might find him out there directing a film or shooting a promotional video armed only with a camera, lights, sound gear, a full driving licence and car, worldwide insurance (including for hired-in kit), PVG membership and a flask of very strong coffee.
​
You might find him working with young people, helping them to develop and film their stories with smartphones or DSLRs.
​
You might find him hosting one of his celebrated workshops on screenwriting or filmmaking, or maybe MCing a film screening, Q&A or pub quiz.
​
You might find him backstage at one of his plays, silently mouthing the dialogue, getting it wrong and marvelling at the actors for getting it right.
​
Or you might find him at home, scrawling in a notebook, editing footage, hammering out a screenplay or writing about himself in the third person.
​
To work with him (me) please email deepfriednoir@outlook.com.
​
IMDb | Shooting People | Facebook | Twitter | LinkedIn | Vimeo
​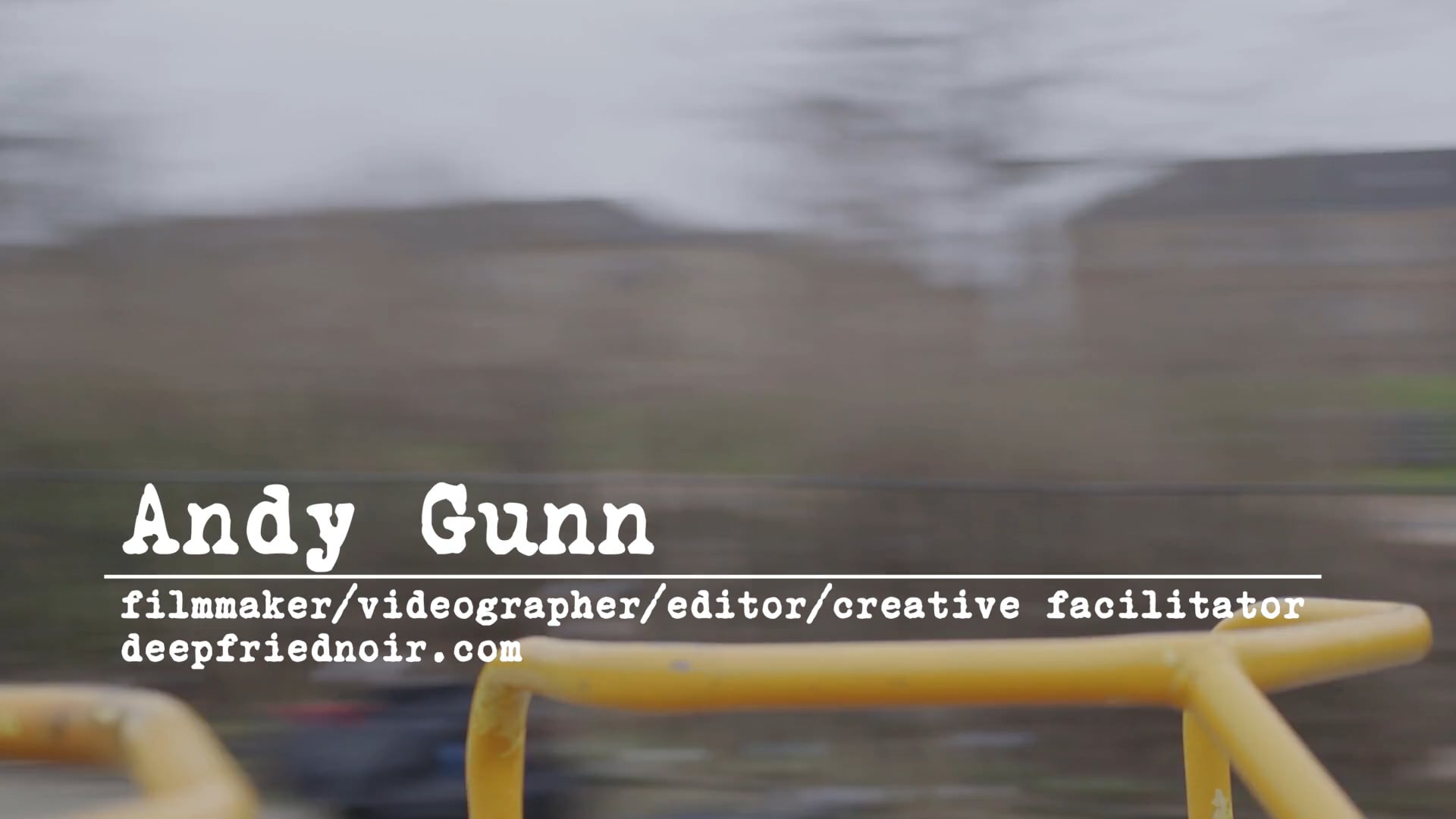 Full Résumé
Short Films
Fertility Daze (2021) – director, producer, writer, animation director
Biscuit Thief (2020) – director, producer, writer, cinematographer, editor
The Future Workplace (2019) – director, producer, writer, cinematographer, editor
Night Terror (2018) – director, producer, writer, cinematographer, editor
Reflections of a Private Eye (2018) – director, producer, writer
Phones Off (2017) – writer (dialogue)
No Frame is an Island (2017) – contributing director, press liaison
Requital (2016) – producer
Cycle Path (2009) – director, producer, writer (dialogue)
​
Videography
​
Governing Our Climate Future event livestream (2021) – director, producer, camera, sound, livestream operator
Speech Bubble screening video (2021) – director, camera, editor
Speech Bubble presentation video (2021) – director, editor
Sonas Work Hacks series (2019) – director, producer, camera, editor
Dancing with Trees trailer (2019) – editor
Maggies Culture Crawl event video (2019) – camera
Pandacar, "Sanctimonious" music video (2019) – director, camera, editor
Sonas pitch video (2019) – director, producer, camera, editor
Locarno Dining Room & Cocktail Lounge (2018) – director, producer, camera, editor
Hipsway album launch (2018) – camera
The Happiness Architect (2018) – director, producer, camera, editor
Radio Pachuco, "Teenage Dirtbag" music video and showreel (2017) – director, camera, editor
​
Digital Storytelling
​
Pilkųjų fėjų pinklės (Song of the Grey Fairies) (2021) – director, camera, editor
Jaunystės šaltinis (The Well of Youth) (2021) – director, camera, editor
The First Storyteller (2020) – director, camera, editor
Sutrūkęs ąsotis (Cracked Pot) (2020) – director, camera, editor
Singing Fish and the Amber Castle (2020) – director, camera, editor
Margaspalvė dama (Lady of Many Colours) (2018) – director, producer, camera, editor
Youth Filmmaking and Storytelling
​
In Our Words project (six films) (2021) – filmmaker, creative facilitator
Speech Bubble Drama project (five films) (2021) – filmmaker, creative facilitator
The Council of the Earth climate change film (2020) – filmmaker, creative facilitator
Story Squad film project (two films) (2020) – filmmaker, creative facilitator
Collaborative Filmmaking
​
It Came from Beneath the GFC (2018) – producer, contributing filmmaker
Because You Watched... (2018) – producer, contributing filmmaker
Eight Minutes to Sunset (2018) – producer, contributing filmmaker
The Ballad of Dusty Beaumont (2014) – director
​
Plays
​
Love the One You Hurt – writer
Eve (A Christmas Play) – writer (also director, producer – 2016)
Belgrade Terminal – writer (also director, producer – 2014)
Don't Wake the Baby – writer (also director, producer – 2014, 2019)
Corner Table – writer
​
Workshops and Screenings
​
Film Labs: Screenwriting, Cinematic Storytelling and No-Budget Producing (2017-present) – creator, host
Coronarama online charity film screening (2020) – organiser, host
Women in Media panel discussion (2018) – organiser
Café Flicker (2017) – host
International Short Film Night (2017) – host
Baltic Film Society (2015-16) – host, Q&A with filmmakers and guests
French Film Festival (2014-15) – host, Q&A with filmmakers and guests
​
Podcasts
​
The Department of Vocal Affairs (2019) – The Caledonian Mafia segment
​
Photography Commissions
​
Woodland Wonder – event photography
Pollok Silver Linings book – family portraits
In Our Words book – art photography
​
​